Holiday Light Display on the Naughty List?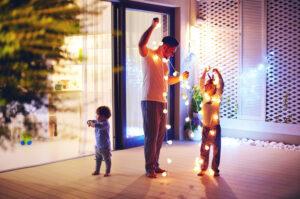 We can all get overwhelmed during the holidays. And that can include the electricity bill from a big holiday light display. But don't let Christmas light safety slide to the bottom of your priority list. According to the National Fire Protection Association, holiday decorations lead to more than 950 fires each year. But it's easy to avoid being a part of a statistic. Simply follow a few tips to keep your holiday light display safe.
Deck the Halls with LED Safety
Today, LED lights are a staple in most of our holiday light displays. They use about 75% less energy than incandescent lights and last longer. That means they definitely lower your holiday lighting electricity bill, but are they safe?
Because LEDs emit less heat, these lights are less of a fire hazard. Similarly, a string of LED lights uses so much less energy, more can be strung together without risking blown fuses or overheating extension cords and outlets. Also, LEDs don't contain the same harmful chemicals some traditional bulbs do, such as mercury. Finally, environmentally conscious New Yorkers can feel good about this green energy choice.
Using LED bulbs is a great start for a safe Christmas light display! But there is a lot more you can do to assure your family and home's protection.
Maximizing Your Holiday Light Safety
Follow these tips as you're preparing your holiday light display for maximum safety.
Always check your lights for excessive wear and tear and dump or repair strings with damage.
Be sure indoor and outdoor lights are placed only in the correct environment.
Only use extension cords that are UL listed, waterproof, and 12-16 gauge.
Attach lights to your house with plastic clips. Never use tacks, nails, or staples.
Consider plug protectors at all connection points to keep connections safe and dry.
Plug your lights into GCFI outlets which can stop the flow of electricity and prevent emergencies.
Child proof your indoor electrical outlets with box covers.
Put your lights on a timer to avoid accidentally leaving lights on for extended periods. Timers can also help keep your National Grid electric bill cheap!
Plan to leave your holiday light display up for 90 days only. Surprisingly, the National Electric Code does have guidelines for temporary holiday installations.
Holly Jolly Season with Safe Holiday Light Displays
Now you're ready to enjoy merry and bright festivities with a safe Christmas light display. Keep in mind LEDs are a safer choice to light up your house or Christmas trees. Although the lights are initially more expensive, they will keep your electric bill cheaper and last longer than traditional lights. And to save even more money on your energy bill, don't forget to compare electric prices at https://www.nyenergyratings.com/.