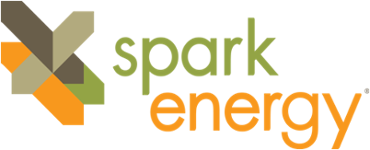 Spark Energy Resources

Founded in 1999 and licensed to sell electricity in Texas in 2002, Spark Energy is now a national retail electricity and natural gas provider. They now provider electricity and/or natural gas services in the following states: Arizona, California, Colorado, Connecticut, Florida, Illinois, Indiana, Maryland, Massachusetts, Michigan, Nevada, New Mexico, New York, Ohio, Pennsylvania and Texas.
---
4-5 Star Reviews: 38 (26%)
Very Customer Service Orientated.
Have been using Spark's services for many years now and have always found them a good value, costing much less than Clearview and other power I have purchased in other locations. Rates go up now and again, but that's no surprise as long as rates are still lower than competing power suppliers. I have been so impressed with Spark's customer service over the past few years that I looked for somewhere to say thank you. Health issues have made it difficult to keep my bill paid on time far too often. No excuse for not paying on time, yet a reason for having difficulties. I always call feeling awful and somehow they make me feel better before I hangup! Kudos!
3-4 Star Reviews: 17 (11%)
Electric supplier
I went on line to find another delivery company for my electricity. Sparks was the cheapest so I enrolled for 6 months. Its ridiculous that my electrical use is cheaper than my delivery charge
2-3 Star Reviews: 17 (11%)
Customer Service only talkable point
The energy service provided were honestly not up to standards. Billing was confusing not to mention their non-existent Plans and Promotions.
The only professional aspect was their customer service, they were very understanding and acknowledging although that is no excuse for their other shortcomings.
Would not recommend as a first-choice but they aren't not the worse.
1-2 Star Reviews: 64 (43%)
Total mess
Chaos.
Seriously advise against.
12/14 & 17 mins waiting to speak to somebody.
A case of L hand never knowing what the R hand is doing.
Spark Energy News
No applicable blogs have been written

Spark Energy FAQs
Where can I order Spark Energy natural gas?
---
Spark Energy does not have any natural gas plans
What do customers think about Spark Energy?
---
That depends on who you ask. There will always be someone who feels wronged by a company, no matter how good they actually are. The average Spark Energy customer review is 2.6 / 5 stars. Keep in mind, consumers will go out of their way to complain far more often than they will to give praise.
Recommended Electricity Plans