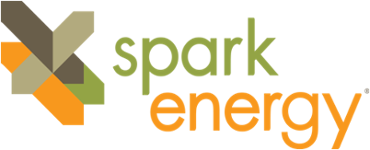 Spark Energy Resources

Founded in 1999 and licensed to sell electricity in Texas in 2002, Spark Energy is now a national retail electricity and natural gas provider. They now provider electricity and/or natural gas services in the following states: Arizona, California, Colorado, Connecticut, Florida, Illinois, Indiana, Maryland, Massachusetts, Michigan, Nevada, New Mexico, New York, Ohio, Pennsylvania and Texas.
---
Most Recent Spark Energy Reviews
Great company and great rate.
So far my bill went down and I find the whole experience easier and more convenient than what I had before I can pay online and there are no fees. Love it.

— Babsy_2004 from Keller TX
Marked down for the first short bill
Ordering was easy, hand off to Spark was seamless. First bill was only 20 days, which was small enough to miss the rebate. So if you're switching you may want to time it to be closer to the beginning or end of the cycle.

— Fred from Colleyville TX
Spark Energy customer for life
Exceeded my expectations.

— Happy Customer from Dallas TX
4-5 Star Reviews: 41 (26%)
Very Customer Service Orientated.
Have been using Spark's services for many years now and have always found them a good value, costing much less than Clearview and other power I have purchased in other locations. Rates go up now and again, but that's no surprise as long as rates are still lower than competing power suppliers. I have been so impressed with Spark's customer service over the past few years that I looked for somewhere to say thank you. Health issues have made it difficult to keep my bill paid on time far too often. No excuse for not paying on time, yet a reason for having difficulties. I always call feeling awful and somehow they make me feel better before I hangup! Kudos!
3-4 Star Reviews: 18 (11%)
Price was in the top 2, but the website/monitoring is lacking
I really liked my two previous companies, but switched from both once the promotion of the first year ended. This company had one of the cheaper plans for the energy that my home uses during a year period. I figured that all companies at this point are the same. Who ever needs to call into an electric company? You go online, pay your bill, and view your usage. BUT.... you can't view your usage real time it seems. So my plan that I need to use so much energy before I hit that bill credit, I can't monitor. There are some months that I am below the threshhold, but could easily (as terrible as this does seem to me) turn on some extra stuff, to bring myself up to the 1000kw I need. But I can't even tell this info. Which I have never seen with a company before this. ??? If you are going with a threshold plan, I would maybe avoid spark at this point until they fix this.
2-3 Star Reviews: 17 (11%)
Customer Service only talkable point
The energy service provided were honestly not up to standards. Billing was confusing not to mention their non-existent Plans and Promotions.
The only professional aspect was their customer service, they were very understanding and acknowledging although that is no excuse for their other shortcomings.
Would not recommend as a first-choice but they aren't not the worse.
1-2 Star Reviews: 68 (43%)
No Rewards
I mailed my first rebate coupon to get redeemed for $50 as instructed and never received the rebate. After contacting them to let them know I had not received it after few months, they wrote back and said they did not receive it and now the coupon has expired. Horrible customer service...specially since I had a picture of the filled out coupon showing it was done months ago
Spark Energy News
No applicable blogs have been written

Spark Energy FAQs
Where can I order Spark Energy natural gas?
---
Spark Energy does not have any natural gas plans
What do customers think about Spark Energy?
---
That depends on who you ask. There will always be someone who feels wronged by a company, no matter how good they actually are. The average Spark Energy customer review is 2.5 / 5 stars. Keep in mind, consumers will go out of their way to complain far more often than they will to give praise.
All Spark Energy Plans
Monthly Recurring Charge
The 'Monthly Recurring Charge' is a fee that the provider will add to each of your bills in addition to the electricity/gas usage charges.
12 month
Fixed Rate
8.19¢ / kwh
$0.00 monthly recurring charge
12 month
Fixed Rate
9.49¢ / kwh
$0.00 monthly recurring charge
24 month
Fixed Rate
9.39¢ / kwh
$0.00 monthly recurring charge
24 month
Fixed Rate
7.89¢ / kwh
$0.00 monthly recurring charge