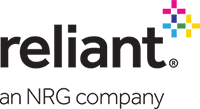 Reliant Resources
Reliant Energy is one of the original incumbent electricity providers in Texas that was spun off from their generation assets when Texas deregulated their electricity market in 2002. They are one of the largest and most recognized electricity providers in Texas. In 2009 Reliant Energy was purchased by NRG and has since expanded their service territories to include Illinois, New Jersey, Delaware, Maryland, Massachusetts, Pennsylvania and Washington D.C.
New Jersey based NRG, one of the largest energy conglomerates in the United States. NRG operates more than 25,000 megawatts of energy generation capacity, including nuclear, wind, solar, natural gas and coal assets.
---
All Reliant Plans
Monthly Recurring Charge
The 'Monthly Recurring Charge' is a fee that the provider will add to each of your bills in addition to the electricity/gas usage charges.
1 month
Variable Rate
9.99
¢ / kwh
12.4%
under market rate
Compared to the current ConEd - Zone J rate of
11.4100¢ / kwh
$0.00 monthly recurring charge
24 month
Fixed Rate
17.79¢ / kwh
$0.00 monthly recurring charge
24 month
Fixed Rate
17.99¢ / kwh
$0.00 monthly recurring charge
12 month
Fixed Rate
18.19¢ / kwh
$0.00 monthly recurring charge
12 month
Fixed Rate
18.19¢ / kwh
$0.00 monthly recurring charge
Most Recent Reliant Reviews
Solar panels warning
If you have solar panels and your contract has expired, reliant will NOT give you credit for the solar electricity your panels produced.

— Bcortes from Cypress TX
Switched over
I to switched over after going to Walmart and talking to a elses rep for reliant. Everything is going good except I have yet to receive my 100 dollar Walmart gift card, i was told it shipped on January 19th, 2022. Not sure why it taking my so long to get delivered to my apartment.

— Joseph from Plano TX
You all SUCK
How lame it is to read all these reviews and all your complaints about high bills lmfao I bet you people wake up 7 am on a sunday to call your service providers and beg for a discount. Pathetic lifestyle yall have. I feel ashamed of texans. Stop crying for your stupid money PLEASE. NO ONE CARES

— loosers from Houston TX
4-5 Star Reviews: 70 (13%)
Great Company
We switched to Reliant two years ago and we have been very happy with this decision. Customer service is great! We were locked in for their 12 month rate and we have saved hundreds of dollars. I recommend Reliant to everyone.
3-4 Star Reviews: 35 (7%)
Overcharge their long-term customers and will charge you at end of your contract
Have been with Reliant for 6 years. Every year, they would increase my rate for the same plan. I realized that they charge about 1.5x the rate of their competitors for comparable services so I decided to switch providers when my latest contract expired on 9/10. Two days after my contract expired, I received an email confirmation stating that my contract had ended and that I would no longer receive power from Reliant because I had switched providers on the day my contract expired. I paid my final bill and thought that was it. I just received another bill today for an additional $117. I contacted Reliant and they stated that the bill was due to an excess usage charge of 1300 kwh that I had supposedly used on 9/9 - 9/10 (1 day of service). I argued with them saying that there was no way I could use 1300 kwh in a single day when that was my usual MONTHLY usage. They said the usage was reported by TDSP so I went on the Smart Meter Texas website and found that I had only used 40-45 kwh everyday for the past month, including the dates in question. I ended up paying the bill because I was tired of arguing with Reliant and they were not offering any resolutions. All I know is that this entire experience provided reassurance that I made the correct decision in changing providers. I will be communicating to whoever I can to not use Reliant because not only do their upcharge their customers, they are dishonest in their billing practices.
2-3 Star Reviews: 64 (12%)
Do you enjoy your energy
Do you enjoy having hours of your time wasted on the phone only for nothing to be fixed? If so come on over we have spent the last week trying to get our energy transferred to our new place. 7 calls around 30-90 minutes a piece to only be told the same thing over and over
1-2 Star Reviews: 310 (59%)