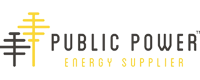 Public Power Resources

Public Power, a subsidiary of Crius Energy, is a deregulated electricity provider that offers service in Connecticut and Pennsylvania.
---
Our Rating of Public Power
4-5 Star Reviews: 32 (50%)
Just another company
It brags of savings but I haven't seen any.
1-2 Star Reviews: 27 (42%)
Rejected
NATIONAL GRID STOPPED HANDLING THE CO. I WAS USING.
ASKED TO CHOOSE A NEW ONE. DID SO FROM SUPPOSED ALLOWED PLANS. SELECTED ONE. RECEIVED A LETTER STATING THAT NG WOULD NOT ACCEPT THAT PLAN FOR WHATEVER REASON. SO I CURRENTLY HAVE NO PLAN ACCEPT FOR NG.
Public Power News
No applicable blogs have been written

Public Power FAQs
Where can I order Public Power electricity?

Public Power does not have any electricity plans

Where can I order Public Power natural gas?

Public Power does not have any natural gas plans

What do customers think about Public Power?

That depends on who you ask. There will always be someone who feels wronged by a company, no matter how good they actually are. The average Public Power customer review is 3.5 / 5 stars. Keep in mind, consumers will go out of their way to complain far more often than they will to give praise.