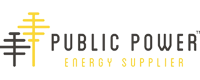 Public Power Resources

Public Power, a subsidiary of Crius Energy, is a deregulated electricity provider that offers service in Connecticut and Pennsylvania.
---
Most Recent Public Power Reviews
electricity
I chose Public Power since it has a stable price for one year. The switchover from eversource was seemless and painless. So far so good with Public Power.

— Daniel Dana from Westbrook CT
Satisfied
I was very satisficed with service.

— Ed from Oakdale CT
Public power for the win
Very easy to set up, pay bill online and nothing needed to be changed on my end. I just paid less money for electricity!! It was a win to make the change

— Jenn from Newington CT
4-5 Star Reviews: 18 (44%)
Easy transfer
My previous provider gave short notice of termination.
The switch to Public was fast enough to avoid a problem, with only a few key strokes on my computer.
The prices also were lower than I was paying previously.
3-4 Star Reviews: 6 (15%)
Pricing not clearly displayed
Two weeks or so after enrolling in your program, I received an e-mail telling me I owed 139 on my account. At first I thought this to be a scam until I called customer service and was told the $139 was a sign-up fee which, the representative told me, was listed on the company website. Had I seen this listing, I wouldn't have chosen your company since the fee added to the per kw/h would have exceeded most, if not all of the other power providers cost in my area. The representative was kind enough to rescind the contract, and I apologize for not seeing the added fee in the sign-up. Thanks for your help
1-2 Star Reviews: 19 (46%)
Do not switch to Public Power!
Public Power offers very competitive rates to lure in customers for a short period of time. I am usually very vigilant when I try a new energy supplier. Due to personal circumstances, I was not able to watch my bills closely, and as soon as the fixed rate was up, they sent a letter that they putting me on a new fixed rate and gave me a couple of days to rescind the new rate agreement. As stated, I was not in the capacity of checking if the new rate was fair. So they locked me in to a new high rate (with a penalty to cancel mid term). I asked to cancel, but they refused to waive the cancellation fee.
It turns out that in just 4 months they over charged me more the $35 over the utility company.

They are totally unethical. Such an energy company should be penalized and discredited.

Actual numbers below:

Electric Billing Period ESCO SUPPLIER ESCO TOTAL O&R TOTAL DIFFERENCE

FEBRUARY 16, 2021 - MARCH 16, 2021 (28 DAYS) PUBLIC POWER OF NY $88.60 $81.87 +$6.73
JANUARY 15, 2021 - FEBRUARY 16, 2021 (32 DAYS) PUBLIC POWER OF NY $121.57 $111.62 +$9.95
DECEMBER 15, 2020 - JANUARY 15, 2021 (31 DAYS) PUBLIC POWER OF NY $120.72 $107.63 +$13.09
NOVEMBER 13, 2020 - DECEMBER 15, 2020 (32 DAYS) PUBLIC POWER OF NY $113.03 $105.50 +$7.53
Public Power News
No applicable blogs have been written

Public Power FAQs
Where can I order Public Power natural gas?
---
Public Power has natural gas plans in New York
What do customers think about Public Power?
---
That depends on who you ask. There will always be someone who feels wronged by a company, no matter how good they actually are. The average Public Power customer review is 3.7 / 5 stars. Keep in mind, consumers will go out of their way to complain far more often than they will to give praise.