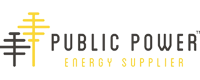 Public Power Resources

Public Power, a subsidiary of Crius Energy, is a deregulated electricity provider that offers service in Connecticut and Pennsylvania.
---
Most Recent Public Power Reviews
Excellent price and service
Best price by far of any choice, easy to order, 2 year term, never any issues

— DR from Wassaic NY
Very Satisfied
Satisfied with the rate.

— JOANN from Southington CT
Customer Satisfaction
I had a billing issue early on which was resolved by one of the customer service representatives (Andre) in a polite and timely manor. It was pleasure to get an issue resolved timely.

— Satified Customer from Naugatuck CT
4-5 Star Reviews: 13 (39%)
Excellent price and service
Best price by far of any choice, easy to order, 2 year term, never any issues
3-4 Star Reviews: 5 (15%)
Pricing not clearly displayed
Two weeks or so after enrolling in your program, I received an e-mail telling me I owed 139 on my account. At first I thought this to be a scam until I called customer service and was told the $139 was a sign-up fee which, the representative told me, was listed on the company website. Had I seen this listing, I wouldn't have chosen your company since the fee added to the per kw/h would have exceeded most, if not all of the other power providers cost in my area. The representative was kind enough to rescind the contract, and I apologize for not seeing the added fee in the sign-up. Thanks for your help
1-2 Star Reviews: 17 (52%)
Would not choose Public Power
I had received an offer from Public Power to renew at 0.0849 kWh, which was 50% higher than I had currently been paying. I went online at (Choose Energy - NY Energy Ratings), and found a lower rate by Public Power on 7/3/18. On 7/5, I received an email confirmation from NY Energy Ratings that they had received my order with Public Power with new rate of 5.33. In August, I received an email from Public Power regarding my renewal, I called and spoke about the rate I had locked in on 7/5. The customer service rep, told me to disregard the mail for renewal. I just received my National Grid bill, and my electric bill is $30 higher than last month, because I'm being charged 0.0849. I just spoke with a customer service rep, who was very difficult to understand - who told me that I wasn't eligible to sign up with Public Power at the lower rate in July, because I wasn't a new customer. I never received any notice of this! She then offered me two other rates that were still significantly higher, and told me that I would have to pay a $100 fee if I chose another company.... I'm looking elsewhere....
Public Power News
No applicable blogs have been written

Public Power FAQs
What is the cheapest plan that Public Power has?
---
The cheapest plan Public Power has is 12 Month Fixed, with rates starting at 9.80¢. This is a 12 month plan. You can find details for that plan here.
Where can I order Public Power natural gas?
---
Public Power has natural gas plans in New York
What do customers think about Public Power?
---
That depends on who you ask. There will always be someone who feels wronged by a company, no matter how good they actually are. The average Public Power customer review is 2.2 / 5 stars. Keep in mind, consumers will go out of their way to complain far more often than they will to give praise.
Recommended Electricity Plans
Fixed Rate
24 Months
24 Month Fixed
9.78¢ / kWh
Rates are for new customers only

Price:
9.780 cents per kWh
Term Length:
24 months
Early Termination Fee:
$100.00
Monthly Recurring Charge:
$0.00
Important Documents:
Info
Fixed Rate
4 Months
Electric 4 Month Fixed Rate
9.69¢ / kWh

Price:
9.690 cents per kWh
Term Length:
4 months
Early Termination Fee:
$100.00
Monthly Recurring Charge:
$0.00
Important Documents:
Info