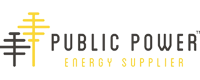 Public Power Resources

Public Power, a subsidiary of Crius Energy, is a deregulated electricity provider that offers service in Connecticut and Pennsylvania.
---
Most Recent Public Power Reviews
Seamless Order
Easy ordering experience-quick completion and transition to provider

— Easy Order-PP from West Chester OH
electricity
I chose Public Power since it has a stable price for one year. The switchover from eversource was seemless and painless. So far so good with Public Power.

— Daniel Dana from Westbrook CT
Satisfied
I was very satisficed with service.

— Ed from Oakdale CT
4-5 Star Reviews: 19 (39%)
Easy transfer
My previous provider gave short notice of termination.
The switch to Public was fast enough to avoid a problem, with only a few key strokes on my computer.
The prices also were lower than I was paying previously.
3-4 Star Reviews: 6 (12%)
Just another company
It brags of savings but I haven't seen any.
1-2 Star Reviews: 25 (51%)
Rejected
NATIONAL GRID STOPPED HANDLING THE CO. I WAS USING.
ASKED TO CHOOSE A NEW ONE. DID SO FROM SUPPOSED ALLOWED PLANS. SELECTED ONE. RECEIVED A LETTER STATING THAT NG WOULD NOT ACCEPT THAT PLAN FOR WHATEVER REASON. SO I CURRENTLY HAVE NO PLAN ACCEPT FOR NG.
Public Power News
No applicable blogs have been written

Public Power FAQs
Where can I order Public Power natural gas?
---
Public Power does not have any natural gas plans
What do customers think about Public Power?
---
That depends on who you ask. There will always be someone who feels wronged by a company, no matter how good they actually are. The average Public Power customer review is 2.7 / 5 stars. Keep in mind, consumers will go out of their way to complain far more often than they will to give praise.