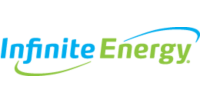 Infinite Energy Resources

Infinite Energy was founded in Florida in 1994 to service competitive natural gas customers. They new service customers for retail natural gas in Florida, Georgia, New Jersey and New York. In 2010 Infinite Energy started offering retail electricity service to both residential and commercial customers in Texas.
---
Our Rating of Infinite Energy
All Infinite Energy Plans
Monthly Recurring Charge
The 'Monthly Recurring Charge' is a fee that the provider will add to each of your bills in addition to the electricity/gas usage charges.
24 month
Fixed Rate
15.99¢ / kwh
$0.00 monthly recurring charge
24 month
Fixed Rate
16.49¢ / kwh
$0.00 monthly recurring charge
12 month
Fixed Rate
17.49¢ / kwh
$0.00 monthly recurring charge
Most Recent Infinite Energy Reviews
Review
The experience was great!

— Review for Employees from Dahlonega GA
The Dynamic Duo!
I decided to switch from GA Natural Gas so I called and spoke with a nice gentleman by the name of Elias. Elias was so patient and kind and explained all of the different programs I was eligible for and how they worked. He even told me he would call me back to ensure I locked in my new rate. I called back and got Alan. Alan told me I didn't need a deposit now because the requirements had changed since speaking with Elias. He was also patient, knowledgeable (just like Elias), and kind. I am feeling very happy that I made the switch. I feel like I am in good hands.

— Waller Family from Atlanta GA
Infinite Energy Review
My interaction with customer service was easy and quick.

— Infinite Energy Review from Flowery Branch GA
4-5 Star Reviews: 63 (47%)
Review
The experience was great!
3-4 Star Reviews: 12 (9%)
2-3 Star Reviews: 18 (13%)
I wish I knew more before I switched.
After switching my first bill was twice what my normal bill was, I still owe over $100 to Georgia Natural Gas ®, and I found out too late that budget billing isnt available at infinite energy until Ive been there for seven months. Ive lived in Atlanta and had gas service since 1978, yet Im not trustworthy enough to join their budget billing program. So far it has cost me more and been more of a pain in the butt and Im feeling it is worth.
1-2 Star Reviews: 45 (34%)
I would not recommend this. Copied email of issue
I am having a hard time reconciling the information communicated/pitched to me when I purchased my solar panels. I originally was paying a bill of $86 a month before making this purchase. 5 months later I am now averaging a total $130 a month and this is expected to go up 2.9% every year.

I also discovered that the solar panels installed (4.9) have a max capacity of 750kw on average (can someone confirm the max capacity of these as I had to google to get this information?) and they are currently only producing an average of 332 kwh. My average usage at the time (sept and oct) was around 876kw. I was pitched on the idea that my solar panels should have capacity to support my daily usage and will more than likely produce more to the point where I will get money back as the electricity companies will buy the power from me. Making this a win win offer in addition to environmental pros.

I am now discovering that all of this was grossly incorrect and almost impossible at the current rates. Per the contract I was estimated to produce 7500kw in the first year. The solar panels installed are currently missing the mark by 47% and I am paying (literally) for it. It my understanding that if i'm expected to produce less than 10% of the amount estimated that is something that should have been communicated to me.

During the initial pitch, I was communicated the following:
Oncor charges will be gone after the first 3 months of operation (the primary point of the pitch was that my costs would be greatly reduced once the oncor charges were removed).
I will only have 2 bills for the first 3 months of operations and then it will go back to one with my solar panels in operation.
I can cancel at anytime.
Reduction in cost benefits for me and my family.
I can have the panels removed.
If I move, I will not have to pay for the costs of moving the solar panels.

Now it is my understanding that none of this was true.

I spoke on the phone with Luis A (3769) from Sunnova and he was unable to communicate anything of value to me in terms of rectifying this issue. He did state, however, that my bills (which only had a couple months of data at that point and for some reason was understated on my bill), would be utilized and that is how my solar panels would be picked (to cover the amount of usage I typically use). I trusted the competency of the solar experts from both Sunnova and Infinity Energy to make that assessment. As noted above, the current ones installed don't have the capacity to do that (mathematically impossible) negating the whole premise of what was pitched/communicated to me.
Infinite Energy News
No applicable blogs have been written

Infinite Energy FAQs
Where can I order Infinite Energy electricity?

Infinite Energy does not have any electricity plans

Where can I order Infinite Energy natural gas?

Infinite Energy does not have any natural gas plans

What do customers think about Infinite Energy?

That depends on who you ask. There will always be someone who feels wronged by a company, no matter how good they actually are. The average Infinite Energy customer review is 2.6 / 5 stars. Keep in mind, consumers will go out of their way to complain far more often than they will to give praise.